16. November 2023
Rekefjord Stone celebrates 60 years with record turnover
Rekefjord Stone turns 60 this year and is experiencing record demand for Norit and Ansit from Rekefjord.
"Never before has more stone been shipped from Rekefjord to the European market," says Egil Solheim, the managing director of the quarry in Sokndal municipality. He states that the company will ship over 2.4 million tons of stone out of the fjord this year. The total turnover for the year is expected to exceed 300 million NOK, a new record.
Stone for offshore wind
"We are sold out for deliveries in 2023 and are now working to position ourselves for large deliveries for the period 2024-2026," he continues. Over 60 people are working in Rekefjord to complete the deliveries that will be shipped to Europe before Christmas.
"Stone from Rekefjord is important for the green shift in Europe. Rekefjord Stone supplies products for offshore wind, coastal protection, and infrastructure projects to over 10 European countries. From Rekefjord, we can provide a stone quality that is particularly well-suited for the development of both floating and fixed offshore wind parks. Our stone in the east quarry is 20 percent heavier than normal stone and has also other qualities that make it especially attractive to our customers," elaborates Egil Solheim.
Seeking more personnel
Rekefjord Stone has an application in to extract two additional pallet heights, equivalent to 24 meters, in the east quarry. If they receive permission, this means that the bottom of the quarry will be 71 meters below sea level. RSA is doing this to optimally utilize available stone resources before entering new areas.
"Our unique location near the European market, along with a good marine infrastructure and, not least, skilled people, makes this possible. We see that the demand for our products will be persistent. Therefore, we are now looking for more operators to ensure that we are well-equipped for the future," says Solheim.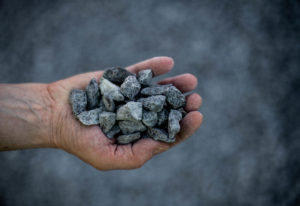 Local purchases for 200 million NOK
Rekefjord Stone is conscious of creating local ripple effects and buys as much as possible locally and regionally. Last year, the company purchased goods and services from the region for over 200 million NOK. The figure is expected to increase in 2023.